FIT For Charity Run 2015 – Sponsor / Supporter Session was held on 1st July
2015/07/08
On 1st July, EY Japan hosted the FIT For Charity Run 2015 Sponsor / Supporter Session in their seminar rooms. This session is held each year by the Organising Committee and is an opportunity for firms who are interested in sponsoring or supporting FIT to find out more about the event details, ways to participate and the potential benefits of sponsoring.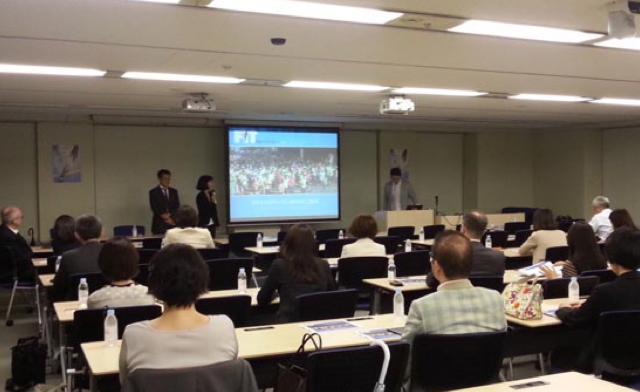 The session began with an introduction to the origins and history of FIT from one of the founders, Aston Bridgman of Deutsche Bank Group. Raymond Wong (Wells Fargo) and Rumi Matsukata (PIMCO Japan) introduced themselves as FIT 2015 Co-Chairs and spoke about their short and medium term vision for FIT. Mamoru Shimizu (EY Japan), Vice-Chair, Sponsorship team, introduced this year's event, then benefits of sponsoring and the track record of the previous events. The evening's session closed with questions from the audience.

Thank you to everyone who was able to attend the Sponsorship session, we were pleased to see a number of representatives who were joining us for the first time. If you were unable to attend the session, please do not hesitate to contact us with any questions or comments.

We look forward to your support again this year as we support a range of organisations who serve important but under-recognised needs or causes and which may have limited fundraising capacity. Thank you for your support of FIT For Charity.