FIT participates in Giving December's Symposium
2016/12/06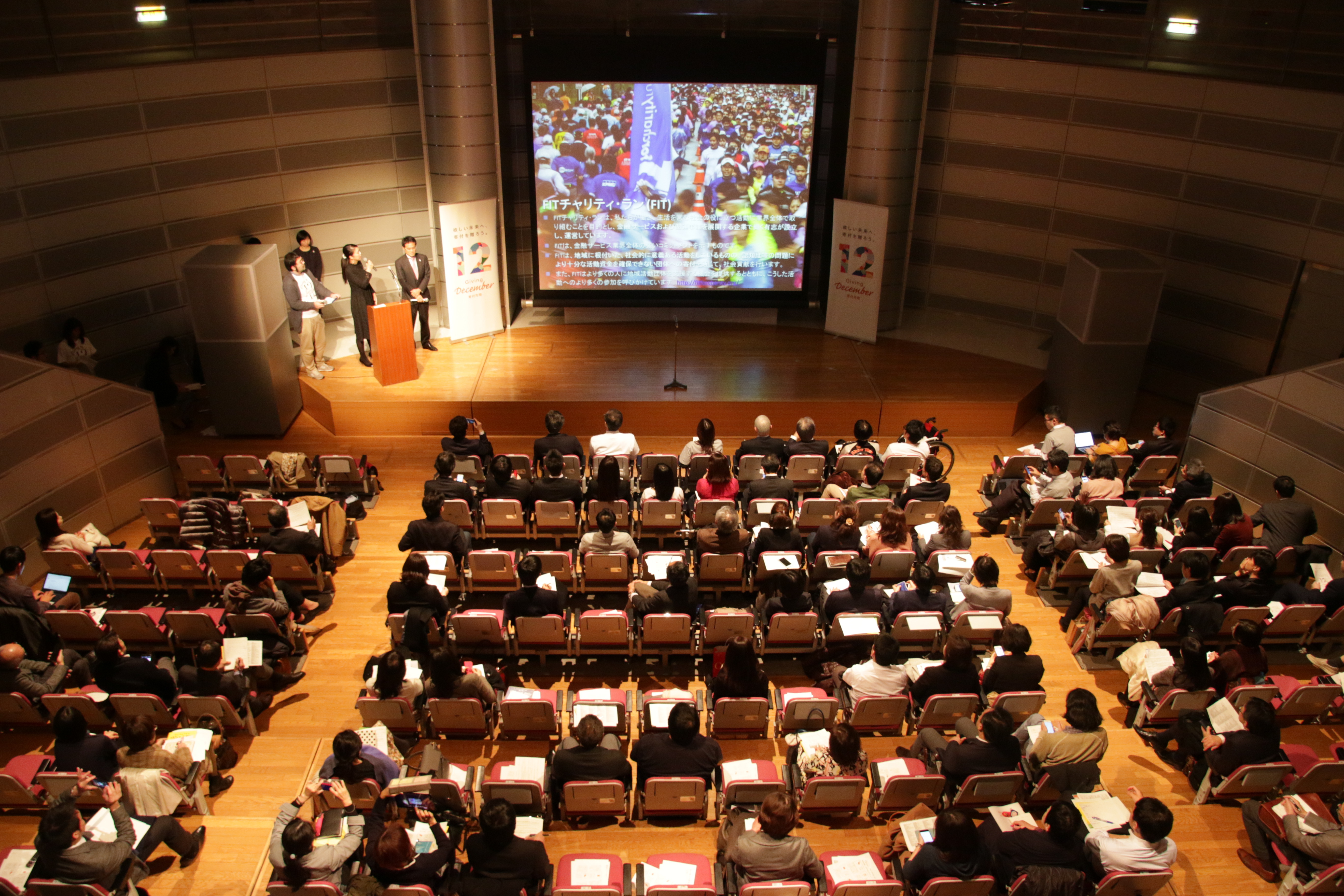 On December 1, 2016, FIT For Charity, participated as an official Giving December Partner Project in Giving December's kick-off forum with the theme of "Giving to the future we want".

At the forum, participants ranging from the Giving December committee and sponsors to partnering project committees discussed the potential and the future of the philanthropic endeavours in Japan. 71 philanthropic partner projects were selected and classified into four categories: (1) projects open to all, (2) regional or workplace focussed projects, (3) high school and college student hosted projects and (4) sports event projects. A representative project was selected for each category, and FIT had the honour of presenting for the sports event projects.

FIT Co-Chairs Raymond Wong and Miho Doi together introduced FIT, highlighting some of the unique characteristics of FIT – including our long track record of bringing together the financial industry to make an impact in the community, our high pass through ratio of donations, our unique system to select beneficiary organisations through votes from our sponsor firms and FIT's track record of helping Kanto based NPOs who have limited fundraising capabilities. FIT Co-Chairs also emphasised FIT's multicultural background with all information published in both English and Japanese to be more inclusive of the event's participants and volunteers. These are accomplishments of which FIT is very proud, and we were honoured to have the opportunity to present our story to Giving December.

At the end of the forum, many participants sent us encouraging messages such as "I used to work in the financial industry and I participated in FIT when it was still hosted around the Imperial Palace," "we think FIT is an really interesting case that brings together an entire industry," "I have never heard of a philanthropic organisation with systems like FIT," to "the high ratio of giving back is inspiring".

You can find more details on Giving December as well as FIT's presentation, by visiting its website. Giving December has many activities that you can participate in so please take a look!