NPO ReBit
ReBit is a LGBT support Non-Profit Corporation established in 2009, with the mission of shaping an inclusive society that is accepting for ALL. The organisation seeks to support LGBT teenagers who are in the upper grades of elementary school to high school. We asked ReBit's founder, Mika Yakushi, to share ReBit's story and mission with the FIT community.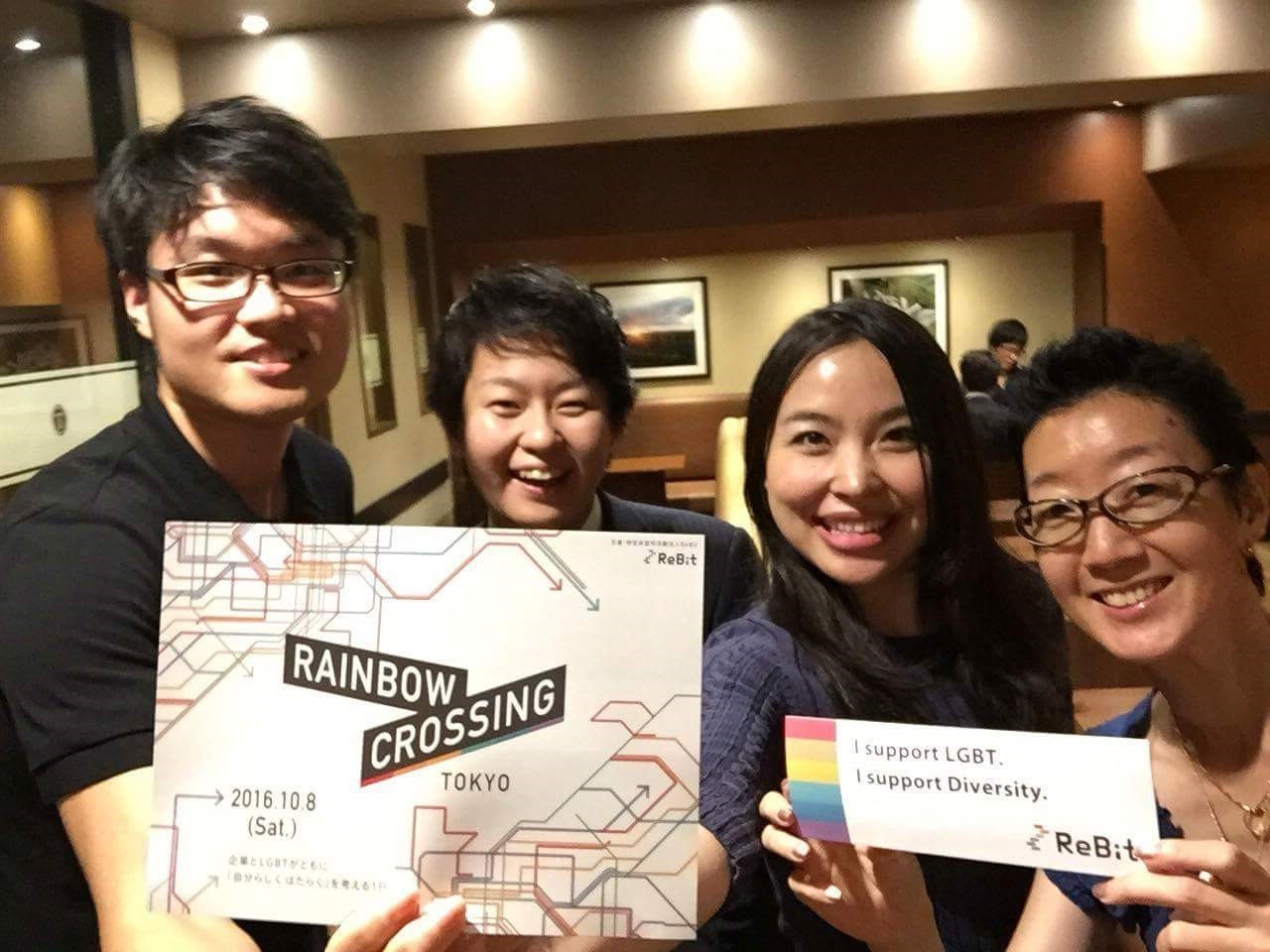 (From the left) Tae Ahn (FIT2016 Comms Co-VC), Mika Yakushi (NPO ReBit Chairman), Chiaki Kimura (FIT2016 Comms Member), and Michiko Shima (FIT2016 Comms Member)

FIT: Can please you share with us the background on why you founded ReBit?
Yakushi (ReBit): When I was a sophomore in college, I was involved with planning an event that focused on exploring LGBT as a social topic. The event left a strong impression with the audience and was met with overwhelmingly positive response. The experience eventually lead to me and and others to form an official Waseda College student organisation called Re:Bit, which eventually became the ReBit that we know today.

FIT: What is ReBit's mission?
Yakushi (ReBit): Our mission is to shape an inclusive society that is accepting for ALL. We seek to support LGBT teenagers from the upper grades of elementary school to high school that are undergoing puberty and adolescence, a very important and sensitive time for development of physical, psychological and social cognition. We are the only LGBT support organisation that mainly focuses on teenagers, and the organisation is ran by college students and people in the 20s.
We have three areas of focus: (1) educating the society on LGBT issues, (2) LGBT coming of age ceremony where people dress however they prefer and (3) career support for the LGBT community.


FIT: What kind of challenges did you face initially after forming ReBit?
Yakushi (ReBit): We initially approach approximately 100 schools on hosting LGBT lectures to educate children on LGBT issues, but were met with strong resistance. We received responses such as "we should not discuss sexual topics like LGBT", "our children may become LGBT if we give a lecture on that topic" to "our school does not have any LGBT students and it's not relevant to us". Note that it is estimated that roughly 1 in 13 people are LGBT, which suggests a class of 40 people would have on average 3 LGBT students. It is imperative that we raise awareness of LGBT as a social issue.
LGBT as a human rights issue is only slowly beginning to be recognized as an important topic here in Japan. Only in April 2015 did the Ministry of Education, Culture, Sports, Science and Technology ("MEXT") release a national notification to elementary, middle and high schools, requesting educators to provide care and attention for students with gender disorder. It is clear that we have a long way to go.
Currently, ReBit is focused on designing educational materials that teachers can leverage to educate students on LGBT issues. We hope to release this educational material called "Safespace Kit" by next April.

FIT: What is the environment for Coming Out in Japan?
Yakushi (ReBit): For children and teenagers, there are mainly two places where that they can feel sense of belonging: at school or at home. At school, Coming Out may lead to bullying if the person is unable to gain broad understanding. At home, denial from any family member may result in the loss of sense of belonging. There are still many children that are unable to share their sexual inclinations due to the fear of losing his or her place at home and/or at school. Coming Out still requires tremendous courage and resolution from the person.

FIT: What keeps you motivated to be involved in ReBit?
Yakushi (ReBit): I've witnessed lots of personal growth in the past few years. For instance, I see students who were concerned about Coming Out a few years back breaking the barrier, and those same people are now advising the younger generation based their own personal experiences. Our other mission, supporting career development of LGBT students is just as rewarding when we hear students have successfully secured job offers. These moments remind me of the obstacles we've overcome together. To be part of that drive for change is a privilege that I cherish and they certainly keep me engaged in the organisation.
On the flip side, whenever we conduct lectures on LGBT, we also get students that would come up to me privately after the lecture and tell me that they have not been able to come out. This tells me that we still have a long way to go in creating an inclusive society.

FIT: How can people who are not LGBT support organisations such as ReBit?
Yakushi (ReBit): Even just reading interviews such as this or showing interest in the topic is a big step. I also note that there are lots of people doing pro-bono work in ReBit who are not LGBT, and they are a huge help to us as they bring their professional experiences in helping execute various projects. We are extremely grateful to have those people on board. Also, I distinctly remember this notion that I learned from a LGBT support organisation in NY that "LGBT is indeed a minority community, but we become the majority if we include all those family and friends who support the LGBT group". We call this concept "LGBT allay" and together, we have a strong voice and can help shape a more inclusive society. I feel strongly that we are a community that anyone can join and show support for.

FIT: Lastly, do you have any messages you would like to share with the FIT community?
Yakushi (ReBit): Thank you for supporting our community. We will continue to work hard and host events and lectures aimed at raising awareness of LGBT community. It will be great if people can join our events.
Lastly, I note that it is important to "come out" and voice the support for the LGBT community. At ReBit, we share LGBT news through SNS websites, and your can show support to the 1 in 13 LGBT people around you by "coming out" and sharing the LGBT news as well.

Here is a link to ReBit's FaceBook page: https://www.facebook.com/Re.Bit.LGBT/

Thank you all for the time!