NPO Kizuki
FIT For Charity 2018 beneficiary organization, NPO Kizuki, provides educational guidance and school entry examination support to young people who have issues such as school absenteeism, dropout or social withdrawal. We spoke with Yusuke Yasuda, the president of the association.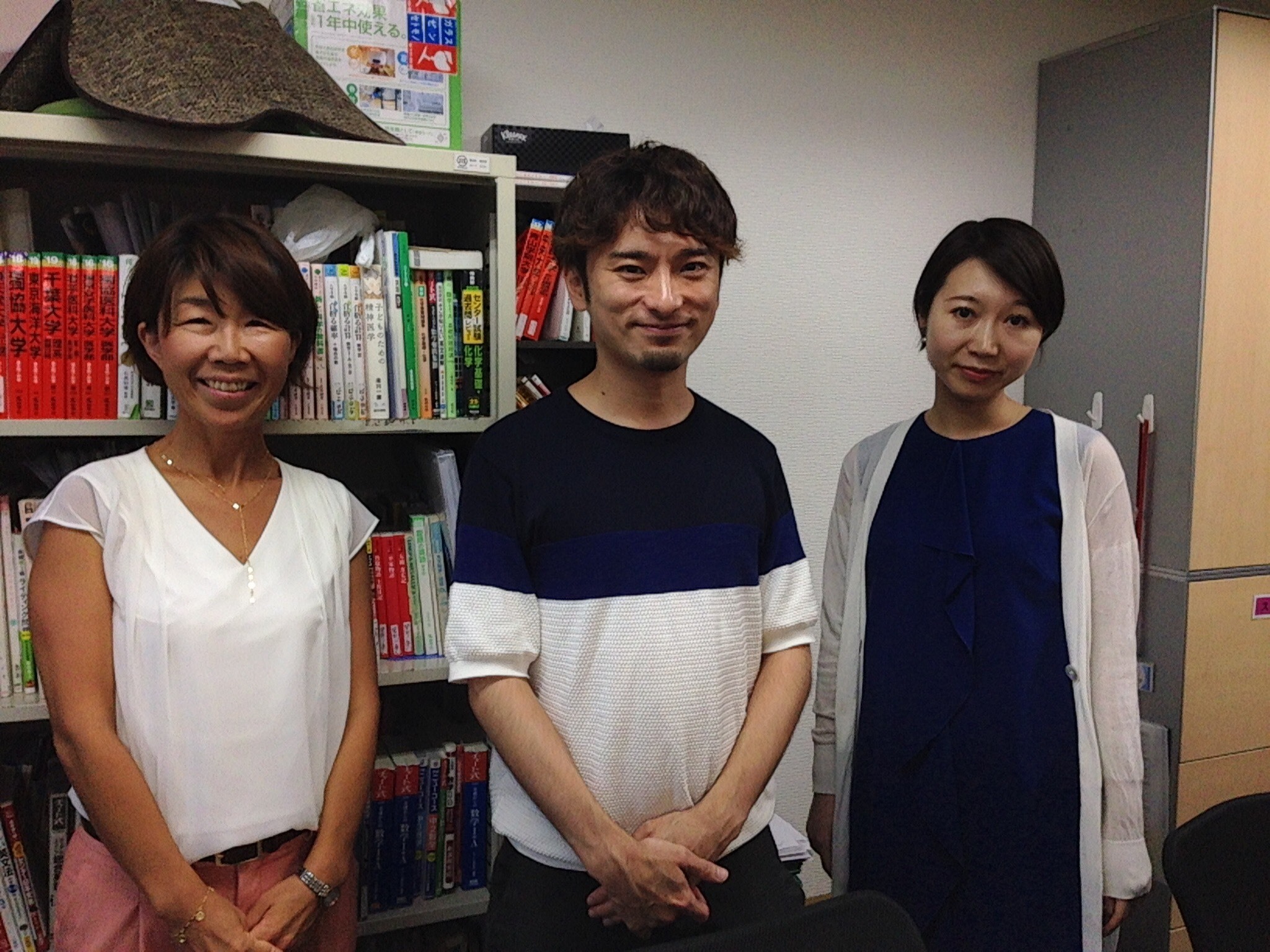 FIT: What made you start your business?
Yasuda: There are a number of triggers but one is that as a child, I have not had such a good family environment. Since I was 12 years old I have been moving around, frequently changing location and the people I lived with. I found it difficult to find a place to belong and due to a developmental disorder, I started staying away from school, then quit school altogether which meant there are actually a couple of years when I didn't get a proper education. I was living quite a depressed life, but at the age of 18, I decided to go to college, studied hard and was accepted to college at the age of 20, where my life changed.

The other trigger is that I joined a general trading company as a new graduate, but I couldn't work because I didn't get along with the company, I developed depression and withdrew myself from society. After a while, I began to deal with my depression, but the world was in the midst of the fallout from the global financial crisis so there were few job opportunities, so I thought it would be better to do something on my own and eight years ago I started my own business.

Although I had a tough experience, I was able to recover, thanks to a number of fortunate coincidences. It was this experience, that drove me to create a "create a society where people in difficult circumstance can start over again" no matter how many times they stumble. This feeling is at the root of all our activities and also led to the launch of Kizuki.

FIT: Tell us about your business.
Yasuda: I run a for-profit company and a non-profit organisation - both sharing the same vision to "create a society in which people can start over again". While we have been conducting business in the form of an incorporated company since 2015, with the NPO we wanted to tackle important social issues which would not generate significant profits. In the beginning, donations were used as scholarships for single-parent households with income below 3m yen who could not afford to send their children to cram schools.

However, when the cost of sending one child to cram school is say 300,000 yen a year, but you only have 1 million yen in donations, you can support only 3 children. I thought that this method would not change the structure of society, so I started to think about ways to change policies, to create model business which could be adopted by local governments.

Therefore, in 2017, we raised 14 million yen through crowdfunding and established a system called "study coupon" in which vouchers are distributed to low-income households to cover crams school fees. From this year, Shibuya-ku has adopted this as a model project and also allocated a budget.

We have three businesses in our for-profit operation. We run cram schools for dropouts and absentee students, provide home-visit learning support to needy families on behalf of local governments, and help people with depression and developmental disabilities find new jobs by teaching them finance, programming, and marketing.

FIT: You are doing business in many fields. Could you tell us how you used the FIT donation?
Yasuda: We are using the FIT funds to dispatch instructors to three juvenile reform schools in the Kanto region to provide learning support, cover programs costs and educational material fees.

70% of the people in reformatories are high school dropouts or junior high school graduates, and 30% are high school graduates. In order for these children to live well within the framework of society after they leave a reformatory, providing them study support to take high school graduation exams is essential as this leads to a broader range of opportunities.

While the reformatories provide sufficient study time, it is basically self-study. Some instructors have experience in teaching at reformatories, but usually there is no time for study support. Now that we participate in the program, we ensure study time is made available to prepare for the high school graduation exams. With the FIT funds, we are able to dispatch instructors to reformatories in the Kanto region, including Ushiku City, Ibaraki Prefecture.

We started Kizuki 8 years ago as an NPO based on many factors and my own personal background, however four years ago we decided to separate the for-profit business from the NPO. Through trial and error, the NPO aims to create a model business for adoption by the government which can eventually have budget allocated to allow it to be embedded into society.

The problem with the reformatories that we support with the FIT funds is that there is still little support for the high school graduation exam. Kizuki today dispatches instructors to 4 reformatory schools nationwide. I don't know if this is a good way to say it, but I myself am not too interested in running these projects; I think that these initiatives only make a difference if supported by public policy. From this August, as a model project from the Ministry of Justice, a budget was allocated to support the juvenile reformatories in Ushiku City, Ibaraki Prefecture.

FIT: What led you to supporting reformatory schools?
Yasuda: The head of a NPO I am close to was providing learning support at a reformatory, and joining that program was in a way another reason for establishing Kizuki. I knew from my own background that there was a need for learning support. Also, there were a certain number of students who couldn't pay the tuition fees to come to the cram school we run in our for-profit business. There were some students who had just left reformatory school and for half a year, worked hard at our cram schools while working part-time. However, the challenges of both studying and working part-time while living their own lives can be difficult to manage and for some, when things started to go the wrong way they collapsed.

I have been watching these students since the company was founded, and I thought that this was a social issue that I had to tackle someday. One of the reasons why we were able to get fully involved is that the Juvenile Law was revised and allows the institutions to work with external organisations.

I think there are two ways to help people who are having difficulties. One is to expand the business to support them, such as a private school run by our for-profit organisation; the other is to approach public policy and ensure the needy are able to receive support from the government, such as the study coupon or learning support for juvenile reformatories we provide through our NPO. We apply these approaches differently depending on the situation of the person in need.

FIT: The FIT donations aside, could you tell us about your future prospects, business expansion plans and reformatory school support?
Yasuda: When I separated the business into the NPO and for-profit organisation, I initially thought that at the NPO we would support low-income households and juvenile reformatories by allocating large pools of resources; but I came to think that this alone would not have a major impact on society. There is no point in doing this unless we make a major change in the way the world works.

Including the for-profit side, there are two ways to change society: firstly by expanding the number of beneficiaries through our business. There are today 500 students attending our cram schools for absentees and dropouts. I am sure that if people see our graduates scattered across the country and working and contributing to society, they will change their perception and realize that this is a society where even school absentees and junior high school graduates can start over.

Until now, school absenteeism has been a problem as students had no option other than to stay at home, but once they are able to play an active role in society, people's value system will change, and if there are many people in society who have recovered from absenteeism and started over, they will no longer think that school absenteeism is a problem.
I believe that the impact on society will be great, and as the impact expands, people's and society's perceptions will change. We will continue to expand our business as a business.

On the other hand, what kind of support should be provided in places like juvenile reformatories? I think the only way to do this right is to approach public policy. I think it is very meaningful to support high school graduate certification exams, but it is not sustainable to do this only through volunteer teachers. If we can get budgets for our efforts and support juvenile reformatories and their communities across the country, local businesses will start to support us.
However, it is difficult to obtain budgets right away, so all you can do is keep telling them that "this is an important cause and a meaningful activity" to make them understand the need.

In addition to supporting juvenile reformatories, we have developed policies. In the study coupon examples I mentioned earlier, last fiscal year in Shibuya Ward, we distributed vouchers for cram school fees to low-income households, and together with university teachers and experts, we measured the effectiveness of the program and by delivering results, we succeeded in securing the budget.

I want people who are having difficulties to stand up and try again. To this end, we will continue to provide various forms of support. Thank you for your continued support!