NPO Uptree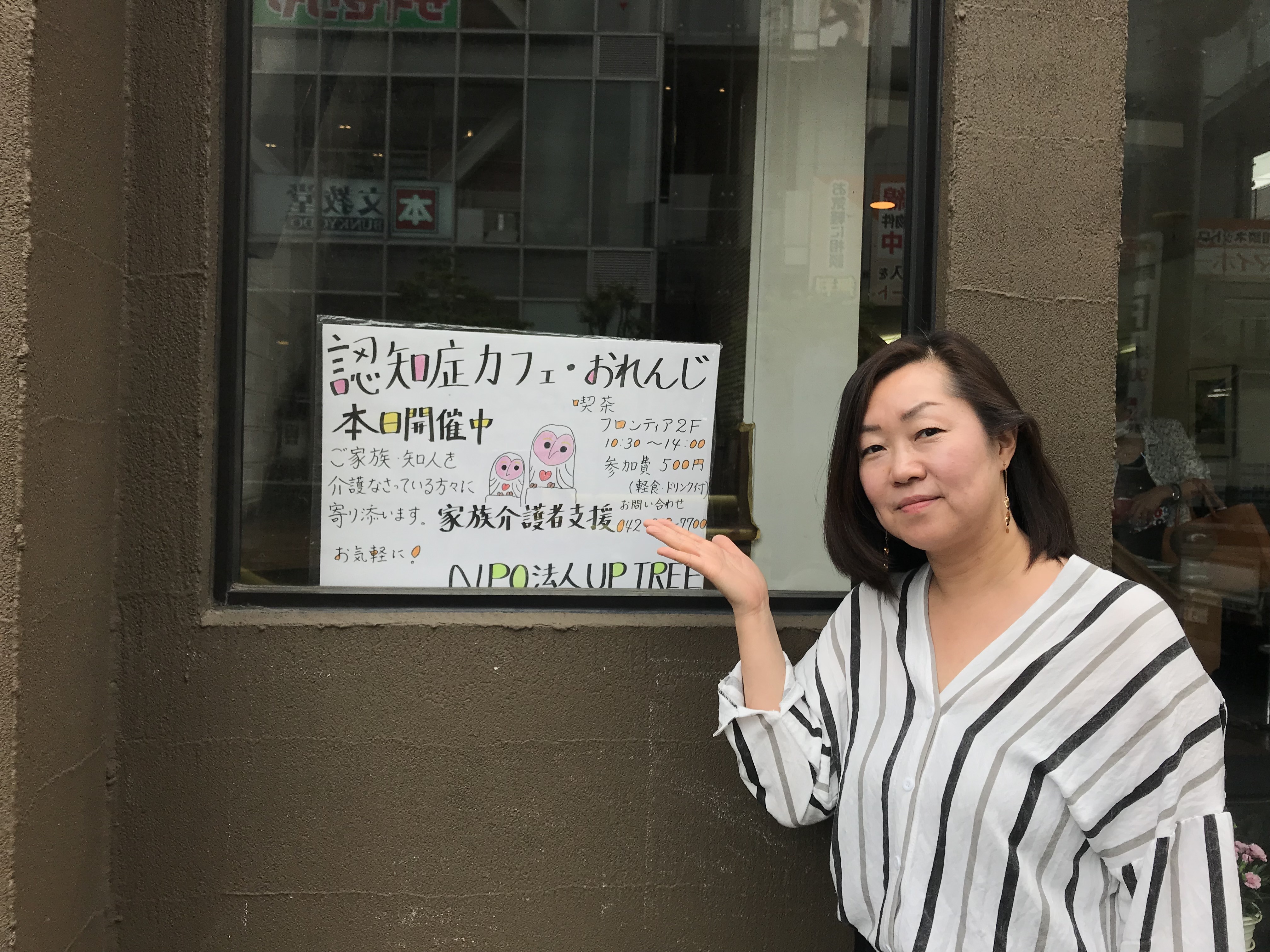 2017 FIT For Charity Run beneficiary, NPO UPTREE, is based in Koganei City and provides support to family caregivers.

We met with Representative Director Ms Mieko Akutsu to hear about her story.

FIT: What sort of activities does UPTREE conduct?
Akutsu: We have four main activities that we conduct to support those in need.

The first activity is providing a place for caregivers. We operate a nursing care family salon, "Carers Café," three to four times a week at a location about one minute walk from Koganei Station. In the future, we would like to have the salon open five days a week. The salon is open for dementia and cancer patients and their families as well as siblings caring for their disabled family members. In regards to cancer, it is most difficult for the patients to share their thoughts and make time to self-reflect as they battle their illness. When I was looking after family members with cancer, I constantly felt the need to belong somewhere but I had a difficult time addressing the feeling. All kinds of people come to the salon. Everyone is looking for a place where they can have their stories heard. This is something I learned through my own experience. In addition, the siblings of disabled family members are required to provide care for a longer period than their parents. The supporters who operate this are able to provide emotional support to current caregivers, through their own experience as caregivers. We hope to provide a place where carers can learn tips around nursing care, in addition to sharing the issues they face. We hope to provide a place where caregivers can not only share the issues they face, but also share information about caregiving.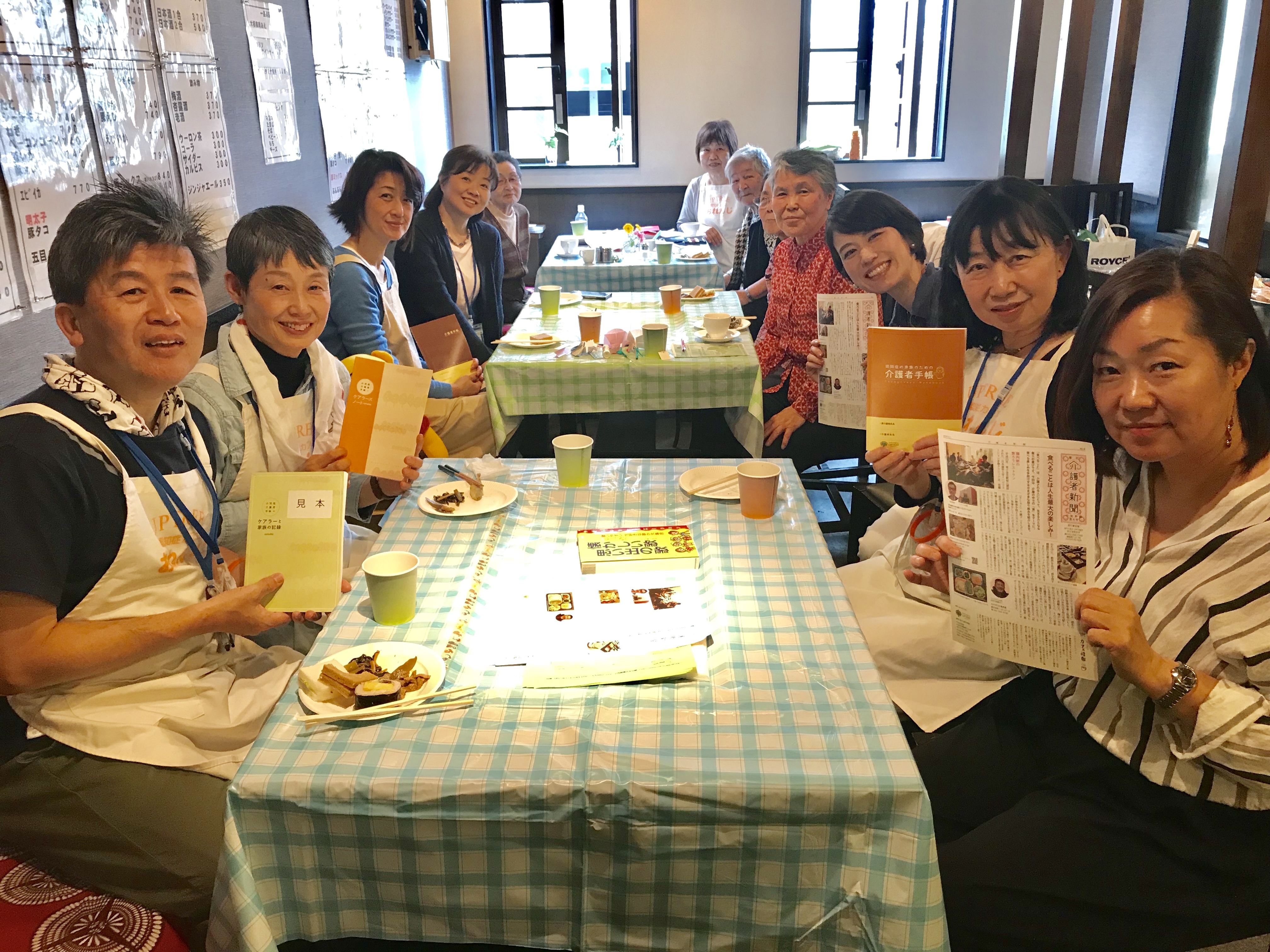 The second activity is awareness raising. We produce a Carer Handbook and provide learning opportunities. The Carer Handbook is the nursing care version of the Mother & Child Handbook. One of the characteristics of the handbook is the visualization of the time from the commencement of nursing care to the end stage as a roadmap to help the carer understand his or her role and be aware of the care he or she is providing. In addition, by recording the daily activities in the handbook, the time spent on giving care becomes very meaningful and the records can later become treasured memory after the passing of the family member.


The third activity is the spreading of information. We work with local municipalities to distribute a carer newspaper that provides local advice to carers. For example, the March issue was about cavity rehabilitation as it is related to one of the top causes of death, Aspiration Pneumonitis. Carers often miss out on information distributed by local medical institutions and municipality that are working on issues such as this. Hence UPTREE spreads useful information to carers through newspapers and social media. Additionally, we proactively disseminate information overseas to become a role model within Japan.

The fourth activity is providing training sessions for corporations. We conduct sessions with human resource departments and employees to share UPTREE's knowledge. Compared to systems in place for carers in the US and the UK, Japan's system is underdeveloped. Under the government lead , the US has carer support organisations with over 38,000 members. We hope to continue researching these leading examples, as one of our mission is to influence public opinion in Japan with a view to creating a society that provides comprehensive support to carers.

FIT: What motived you to start UPTREE?
Akutsu: It was my personal experience of caring for my parents who had cancer. At that time, I was fully occupied with what was in front of me and did not have any time for self-reflection. I had no one to talk to or lean on and had pushed self-care aside. I felt isolated as I cared for those in need and wondered how other people in the same position dealt with it. After losing my parents to cancer, I was for the first time able to face the pain of feeling of isolation. From then, I studied about grief care and nursing care and starting thinking about creating a place where people with similar experience can share their feelings.

Another major trigger was the [2011 Great Eastern Japan] earthquake. Within a year from the passing of my parents, through experiencing the earthquake I became aware of the reality of my own death. Despite being a carer in the past, that was when I realized that I didn't have the understanding of those receiving the care. However, by realising that death will someday be upon me too and from my desire to spend my remaining time meaningfully, I was finally able to move forward with starting UPTREE.

FIT: What are some of the challenges you face in running UPTREE?
Akutsu: Fund raising is a challenge. Compared with the western world, Japan doesn't yet have a culture of donating. Many organisations rely on subsidies to fund sustainable development activities. However, by doing so, one is bound by the policies of the organisation providing the subsidies. Hence, there is a feeling of being mandated to do certain activities, rather than focusing on activities that are meaningful. At the beginning, UPTREE also relied on subsidies but we cut ties after 3 years. We were able to experience working within the scope of subsidy policies and was able to expand our scope of operation after we cut ties so all in all I think it was a good experience.

FIT: What are you future goals?
Akutsu: We are currently focused on providing support to the local region. However, our goal is to become a 'role model' for carer assistance and spread UPTREE's activities to the broader Tokyo metropolitan area and Japan proper. It will be difficult to convey things that only carers can understand, but we believe education is the necessary means to overcome this issue. In order to provide opportunities for children to learn about caregiving at school, we will continue to engage the government to gain support and understanding for caregiver policies.

In addition, we are currently most interested in organizing grief camps, where group conversation, therapy, and counselling is provided to carers in a condensed form in the setting of a camp. There are precedent cases in the US. There are also studies that show that camps are very effective in bringing people in similar situation together and sharing feelings. We would like to study successful cases and look into providing free of charge grief camps which are funded entirely by donations. There are many overseas cases that are useful as references, including the concept of this camp. Therefore, we want to exchange information and gain access to training from successful organisations.

FIT: How did you use the donation funds from FIT?
Akutsu: The funds are being used mainly in three ways.

The first way is for the renovation of the Carers Café. Currently, we are renting for our café a place that was a restaurant but we plan to change the layout so that it is easier to utilise the space. We also plan to convert Japanese style toilets to Western style toilets.

The second is the issuance of an updated Carer Handbook. The handbook loses its importance if the context of the handbook is not updated concurrently with the changes to the nursing care insurance, which is revised every three years. Therefore, we aim to continue updating the handbook in accordance with the latest nursing care insurance law.

The third way is for overseas training and information gathering. As I explained earlier, we want to exchange information with successful organisations in the US and apply best practices to UPTREE's activities. By doing so we hope to be able to provide support to not only local carers but to carers all over Japan.

FIT: Please provide a message for those participating in FIT!
Akutsu: FIT is a wonderful program. We would like to express our sincere appreciation for providing the opportunity for us to move forward with our activities. Thank you. I think it would be even better if there was a framework to provide continuous assistance to organisations supported by FIT, so that those organisations can continuously to move forward with their activities. I believe it would increase the number of organisations that do meaningfully work in our society. I would be grateful if you could consider such a framework through future FIT activities.

NPO UPTREE: http://uptreex2.com/