NPO Japan Amputee Football Association
2018 FIT For Charity Run beneficiary, NPO Japan Amputee Football Association ( "JAFA"), strives to strengthen the ability of its players and improve the awareness of the sport itself. We went to meet with Mr. Masayuki Sugino, Deputy Director, and Mr. Henrique Matsumora Dias, a representative of Amputee Football Japan national team.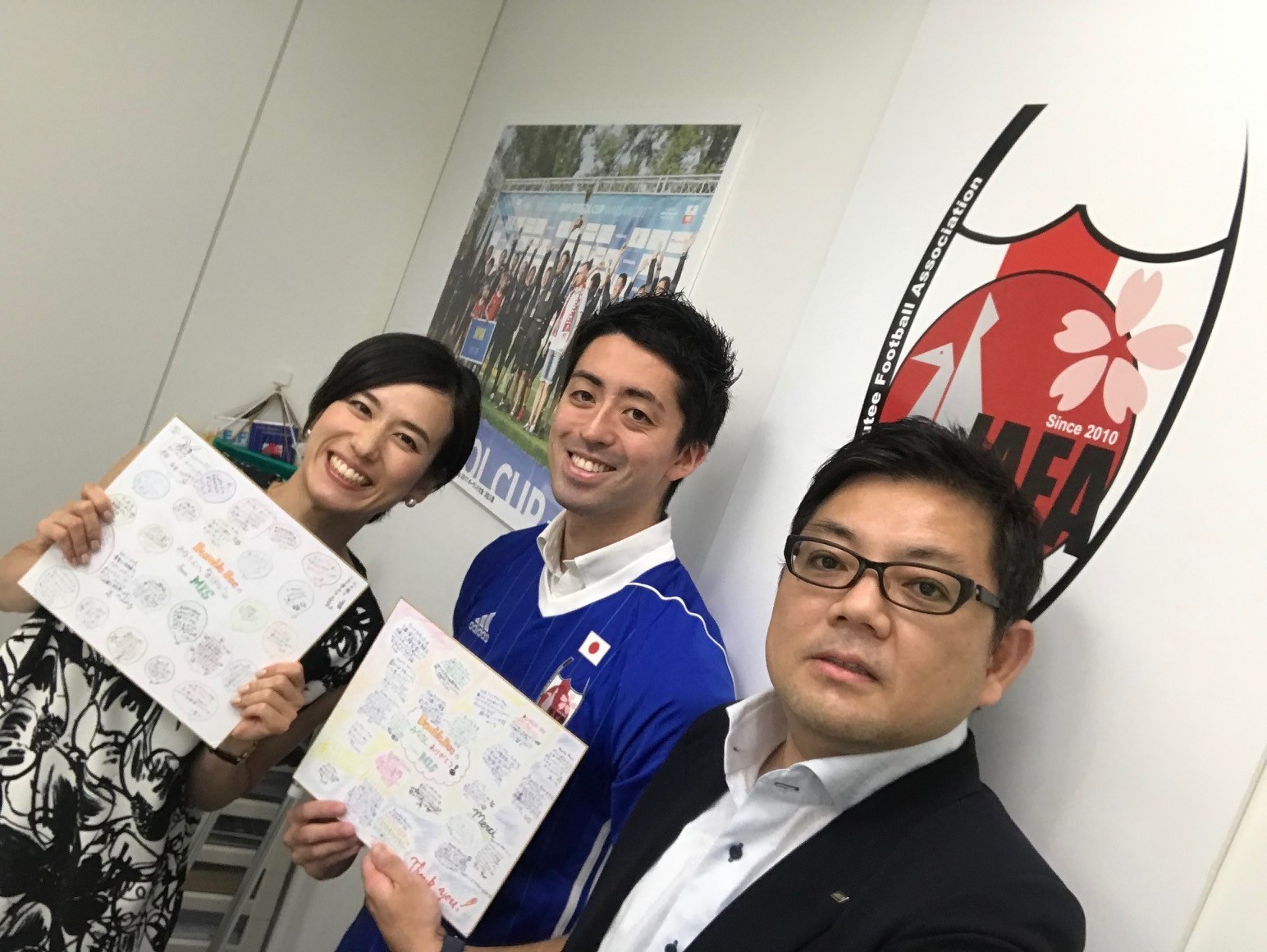 From left to right, Haruka Matsumoto (FIT Co-chair), Mr. Henrique Matsumora Dias (a representative of Amputee Football Japan national team) , Mr. Masayuki Sugino (JAFA Deputy Director).

FIT: Please tell us about the activities of JAFA.
Sugino: We promote awareness and improve the quality of Amputee Football, which is a form of football for amputees. As a special initiative to strengthen the competition, we host a national tournament twice a year in hopes of sending players to represent Japan at Amputee Football World Cup, which is held every four years. In addition, to increasing the awareness and acceptance of the sport itself, we often hold trial events and lectures at various schools.
Currently, there are seven organisations in Japan that are related to Football for people with disabilities. The Japan Inclusive Football Federation ("JIFF") is at the centre bringing these organisations together andworks together with the Japan Football Association to promote their matches and activities.

Dias: Since JIFF was established, we have held several events related to Amputee Football. At various events, participants can interact with not only players from Amputee Football, but also with players from Walking Football and Blind Football. Amputee Football can be enjoyed by non-amputee people as well, and there are some who are not amputees but choose to train in Amputee Football voluntarily by restricting the use of one of their legs.

Sugino: Strictly speaking, Amputee Football is a sport specifically designed for amputees, but it is also possible for non-amputee people to participate together. We are contemplating ways to interact with non-amputee people in order to promote the sport.

FIT: Please tell us about how you became involved with Amputee Football.
Sugino: I was born in Costa Rica, and grew up in an environment rich with football. Looking back now, it feels like fate as my soccer teacher at the time was a semi-professional who had lost his leg in a traffic accident. Even though I had been practicing football since elementary school after moving to Japan, I was slow to improve and could not keep up with my peers in Junior High.

After entering the work force, I joined a company that published newspapers in Spanish and Portuguese for Brazilians, Argentinians, and Peruvians. Interacting with South Americans fueled a passion for football even after becoming a working adult in Japan. I have always liked football and even wanted to work in football. In 2000, I had a chance to work with an ex-J-League coach to host a football school for children with developmental disabilities in Tokyo. From 2002, Mr. Sekine, who is now the director of JAFA, took over the responsibilities of the special football school with me, and expanded our scope to teaching football to players with developmental disabilities.

Dias: I lost my leg in a car accident when I was five years old, so I was used to playing with a crutch with my friends. Now that I think about it, that was probably the style of Amputee football. Then one day, I read in a newspaper that Brazil had won an Amputee football tournament, and that motivated me to start playing it.

FIT: How did Amputee football and its organisations come about in Japan?
Sugino: I learned about Amputee football from meeting with Henrique ("Hikki") in 2008. Hikki's cousin, who was a colleague at my company, introduced him to me. When I saw Hikki playing football for the first time, I was surprised that he was chasing the ball with only one foot and a crutch.

Dias: Before I came to Japan, I used to play on Team Brazil for Amputee Football. I was quite disappointed that there was no Amputee football in Japan. One day I learned that Sugino-san, who was working at the same company at the time, was teaching football to people with disabilities. Eventually, I mixed in with all the practices and matches for football designed for those with developmental disabilities.

Sugino: Over the course of one year since we met, Hikki gathered a number of players to form a team for Amputee football.

Dias: With the help of a prosthetist and some friends, we filmed a promo video of myself playing Amputee football to show others at every opportunity. Once we had gathered enough people to carry out proper practices, I began to feel that I was not up to the role of leader and from our second official practice, asked Sugino-san to talk over as leader going forward.

Sugino: First, we started by removing the prosthetic leg and practicing walking with a crutch. After reviewing what kind of training menu would be best, we implemented them by first having Hikki show us how to perform them, and the rest of us mimicking his movements. I have always been involved with the training with the intention of improving the level of our game as a team. Slowly but surely, the number of our players has increased, and now club teams have been established throughout Japan. Our national Amputee football players have also become competitive enough to place Japan in Top 10 in the world.

FIT: What are some of the challenges you face in continued operation of your organisation?
Sugino: There are three main issues. One is money. I do not want to turn Amputee football into a costly sport. However, the current reality is that each player must shoulder the most of their own expenses such as traveling to the world cup and paying fees to participate in training. I do not want anyone to quit because of the financial burden so we would like to recruit sponsors and supporters to help solve this issue.

Dias: There are people who play Amputee Football professionally around the world. It would be nice to grow the sport into one where people are willing to pay money to spectate, and one where kids will dream of becoming a professional player.

Sugino: The second problem we face is securing sustainable human resources. Even though the organisation has grown significantly, JAFA tends to rely on enthusiasm and volunteerism of its members. As such, we are always short of manpower. It is necessary to secure dedicated staff to facilitate smooth management of our organisation. We are looking for committee members at JAFA, so please submit your applications! The third point is cooperation and collaboration with other world organisations. There are many organisations related to Amputee Football in the world, but every continent, country, and area has their own direction of where they want to take the sport. It has been challenging to align everyone's interests and purpose. Hikki and I have participated in international meetings (called "Congress") to represent Japan's views and policies.

FIT: Please tell us about moments of when all your efforts have paid off.
Sugino: When players are serious about practice and matches, and when players express their raw emotion at the results of each match, I feel most vindicated. Seeing our players on the international stage leads me to think that our efforts have not been fruitless, and brings me great joy. In addition, at one of our trial events for non-amputee people, I received feedback that their perception of Amputee Football has changed from that of sympathy to admiration. It made me happy that I was involved in this work every day.

Dias: For me, it must be when I learned that the sport had changed my fellow teammate's life. In the beginning, I only wanted to play together with people who shared similar disabilities. However, recently I have heard from my teammates that they were able to face life with a more positive outlook thanks to Amputee Football. I was really happy to hear that.

FIT: What are some of your future plans?
Sugino: In 2020 is the 10th anniversary of JAFA, and we are planning to host an international tournament in Japan. Our main purpose is to strengthen our players and the team, but also create an opportunity for many people to watch our games. We want as many people as possible to appeal the sport's charm. In addition to Europe and South America where amputee football has a rich history, we are inviting many emerging nations from Asia. After the 2020 Tokyo Paralympics is over, we are planning to co-sponsor with Kawasaki City as a continuation of Kawasaki's "Paramovement." When the European Amputee Football Championship was held in Turkey in 2017, the event was attended by more than 50,000 people creating a great amount of excitement. I think that serves as proof that Amputee Football has the potential to be greater. On the other hand, this project requires a lot of funds, so we must plan our fundraising carefully to guarantee the success of the tournament.

FIT: Please tell us how you plan to use the donation you received from FIT For Charity.
Sugino: We will take players to various schools and host trial lessons. The funds will also be spent on equipment and on the filming of promo videos. Earlier this year in June, we hosted a trial lesson at Makuhari International School. Going forward, we plan on expanding our scope to include not only children but also their parents. Participants will be able to meet Amputee football players and hear their stories of how they lost parts of their bodies, how Amputee football transformed their lives, and what kind of sport Amputee Football is. By interacting with players and experiencing Amputee Football for themselves, we hope that it will lead to more increased interest and an understanding that Amputee football is one of the sports for people with disabilities. As for the promo video, our main areas of focus are awareness and promotion. It will convey Amputee Football's appeal, and lead to better awareness of the sport itself.

FIT: Lastly, please share a message with everyone at FIT For Charity.
Sugino: I cannot thank FIT For Charity enough. Please come check out the Japan National Amputee Football Tournament in November, and experience it for yourself. Amputee Football has the ability to change people's perception that it is simply a sport for people with a disability. You will be impressed by the speed of the ball and level of techniques, and come to love the sport. I hope to see you all at the championship venue.

Dias: Recently, the general skill level has vastly improved. You will not be able to pull your eyes away during the matches. See you at the tournament in November!

Japan Amputee Football Federation Official Website: http://j-afa.jp/
JAFA is looking for volunteer members! Details are on their web site!