NPO 3keys
2017 FIT For Charity Run beneficiary NPO 3keys operates in Yarai-cho, Shinjuku area, based on a philosophy that all children should live safely without social isolation, regardless of their financial status, abuse or other family situation.
We visited Ms. Takae Moriyama, Representative Director, and Mr. Tatsuya Suzuki, Public Relations, to hear their story.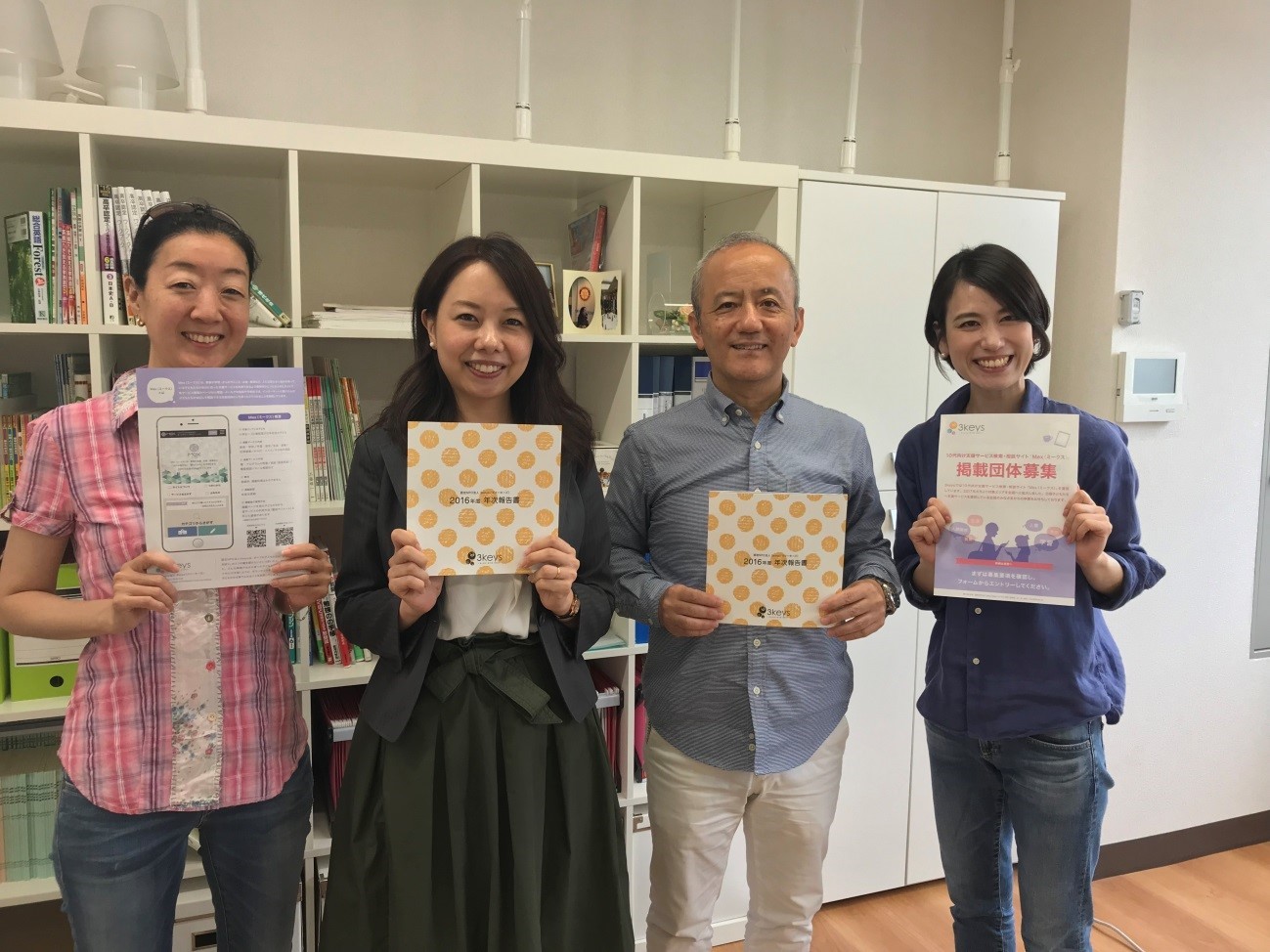 From left, Ms. Michiko Shima (FIT Communications team), Ms. Takae Moriyama (3 keys Representative Director), Mr. Tatsuya Suzuki (3 keys Public Relations), and Ms. Haruka Matsumoto (FIT Co-chair).

FIT: Please let us know the key driver for setting up 3keys.
Moriyama: My motivation sparked when I was volunteering to teach at an orphanage back when I was a university student. I was stunned by the fact that family environment impacted learning, delayed schooling and caused difficulties in future studies and employment, and many not able to escape poverty. In addition, every facility constantly lacked volunteers. Although I decided to study politics as I was interested in sociology, I did not have the opportunity to learn about real social issues. As I wanted to convey this reality to people around me, I started to get involved while I was studying.


FIT: What kind of activities were you conducting initially?
Moriyama: We commenced operation with six students. We initially worked to address labour shortage issues at orphanages by recruiting 30 students and adults and assigning them as teachers to the facilities. We conducted hearings at each facility to match the needs with student's expertise. We conducted seminars and wrote newspaper articles through which our operation gained recognition among adults who had an interest in the field of educational welfare but did not have the opportunity to engage.

FIT: Mr Suzuki, we understand you joined as an adult to support student-run 3keys.
Suzuki: Yes, I sympathized with Ms Moriyama's pure intension and decided to support. Until then, I worked as an ordinary employee; just as I was looking for a change, I learned about 3keys. I thought that I could make use of my experience as an adult to contribute.
Moriyama: If you operate an organisation with just volunteers and students, you have limited resources during weekdays daytime and graduate recruitment season. Considering the time frame children seek help and when we receive inquiries from corporates, we were grateful to have support from both students and adults.

FIT: What sort of activities are you currently conducting at 3keys.
Moriyama: We have 3 main pillars of operation. The first is study assistance to children. We provide an environment for those children with difficulties to secure a place to study. Secondly, we listen to the children's voice. In order to conduct this smoothly, we prepared for about a year and opened a site called Mex (pronounced meex) in April 2016 where children can search and ask questions. This service is aimed at children who require but have not been granted protection or those returned from facilities, so they can raise their voice to seek professional support and services. We conduct thorough research before posting organisations on our website. We currently have about 160 services. We received about 140,000 accesses within FY2017 and were able to provide assistance to about 4000 children through this website. We use banner advertisements in order for children to easily find us when they are in trouble.
The third pillar is awareness raising through lectures and seminars. We have received assistance from Microsoft & Twitter to provide cues for adults to think about the issues children face and what adults can do to address these problems. We want to increase these opportunities in the future.

FIT: What is driving you, Moriyama-san, personally to continue these activities?
Moriyama: I want us to conduct our activities in close connection with the children, thereby putting the protection of children's own rights at the forefront. Usually, children and parents receive support jointly and the children's rights tend to be overlooked. Unfortunately, as a matter of fact, children support services and government infrastructure are insufficient, resulting in children not having a positive impression of the support they receive. This is exactly why we launched Mex as a platform for children to seek support by themselves. To overcome the impression and difficulty in using support services, we would like to continue putting children's interests first.

FIT: What are your future plans for 3keys?
Moriyama: I want to achieve visible results as a way to appeal to the government administration and transform society as a whole. We believe that by raising awareness of our activities, the issues we are addressing will be taken more seriously as a social problem. However, what is considered a societal goal may not necessarily lead to a child's happiness. I would like to realise an environment where children with problems arising from poverty and abuse can properly receive what should be provided.

FIT: What motivates you to continue every day?
Moriyama: The driving force is the lack of recognition and consciousness of the issue that something as basic as children's rights are not adequately secured. I feel a sense of accomplishment when I can create something I thought was necessary or when I feel a problem has been solved. I think it is important for me to do what an adult should do. Even if we solve one of the problems our children have, we face the next challenge. When you face the children, you want to give warm-hearted support and you feel something like parental love. That is also the driving force behind our activities. As I support the children, I feel extremely moved the moment I catch a glimpse of their development.
Suzuki: Narrowing the gap between social problems and our ordinary work life is one thing that motivates me. Compared to when I was making money for my employer, I realise that 3keys activities are worlds apart. That is why I'd like to create a chance to take our activities into the daily lives of the ordinary working population. There may be many challenges ahead but that just motivates me to continue.

FIT: How has the FIT donation benefited 3keys?
Moriyama: There are mainly two areas: One is to expand the services and organisations promoted on Mex. We would like to expand our coverage beyond the Kanto region to reach good services and support offered in rural areas.
The second is to conduct seminars and lectures. In the future, we will continue to set up opportunities for seminars and lectures and strengthen ties with companies to ensure that the gravity of issues such as children's poverty, abuse and other problems arising between children and their parents are correctly conveyed to society and further appeal to the government administration.

FIT: One final comment, please!
Moriyama / Suzuki: Thank you very much. We look forward to more opportunities to collaborate in the future.