NPO eboard
NPO eboard, a 2017 FIT For Charity Run beneficiary, aspires "to create a society where no one is left behind in learning" by providing ICT (Information and Communication Technology) called "eboard." They are delivering the contents to schools, NPOs and other fields of education to achieve this goal.

We met with Representative Director Mr. Koichi Nakamura to hear his story.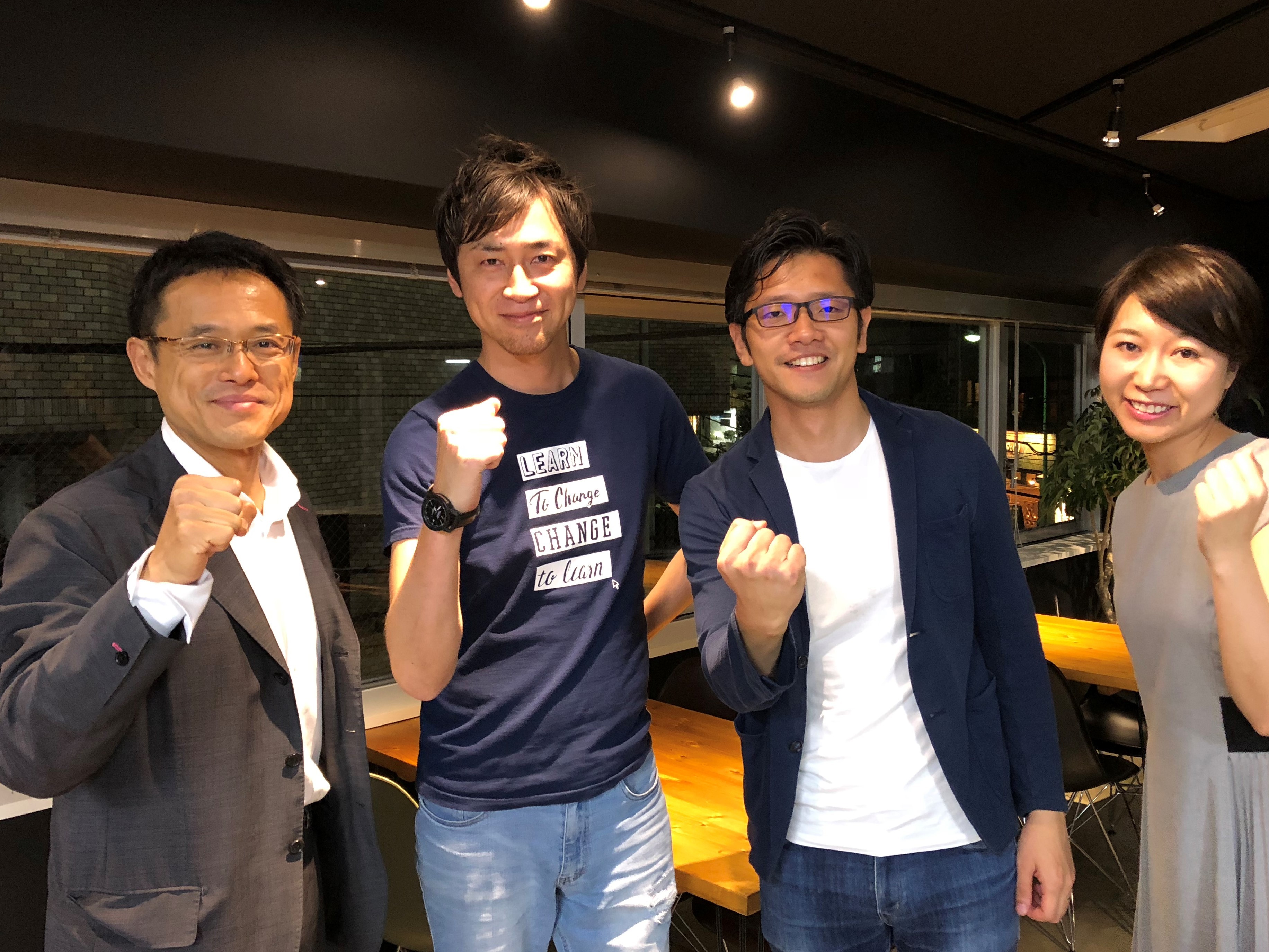 From left to right, Mr. Raymond.Wong (FIT Communications Team), Mr. Shota Maeda (Director), Mr. Koichi Nakamura (Representative Director) and Ms. Yuki Nishiyama (FIT Communications Team).

FIT: What brought you to establish eboard?
Nakamura: During my college days, while I taught part time at a cram school, I provided learning opportunities for those who could not afford the expense. Unlike the children who can afford to come to cram school, these children were initially hesitant to study and were not trying to learn. However, with diligent support, they started enjoying a sense of achievement and in the end, they learned to make effort on their own and to aim to pass High School entrance exams.

Soon after graduating college, I started working for a consulting firm. However, I was always thinking what I could do in order to provide learning opportunities for as many children as possible. I decided to be involved in education not as a teacher, but as an educational content provider. By creating ICT content and providing such educational tools through the internet, I thought it would enable me to reach many more children. In order to engage with teachers and schools to broaden the reach, eboard was incorporated as an NPO in December 2013.


FIT: Could you kindly advise how did you learn about FIT?
Nakamura: A man who was working for one of the FIT Sponsor companies introduced them to us. He had individually supported eboard and had kindly introduced his company's person in charge of CSR. His company was trying to be involved with FIT more actively and they kindly nominated us for the charity process.

FIT: We are very impressive by your passion of supporting eboard. Could you share what are the contents of eboard like?
Nakamura: The contents of eboard are developed by us. eboard consists of many people from various backgrounds such as an active teacher, a researcher, a college intern student, a person who has the experience of being a truant student, a parent with kids and each of them have considerable interests in the current education situation. The audio component of the contents are recorded by us as it requires some "tips" to speak in an age-appropriate way for our users.

As you can see in the eboard website, our content and lessons are not lectured by teachers. While in a school environment teachers give lectures in a one-directional way, eboard lessons are not like that. We answer the questions together with the children as if their tutors were speaking directly to them. Through analysis of the characteristics of students who are not good at their studies, we have developed our way of delivering lessons which best captures the children's attention. Many of the text/drill books' answers are written with long comments, which can be hard to read and understand for those who are not good at their studies. eboard provides answers by showing simple animations so that they will not give up trying to understand it. Such contents can be played at double speed for kids who are good at their studies and sub-titled with comments for those who are not. These improvements have been made by reflecting the ideas from those who are actually using eboard or by communicating with children.


FIT: We hope these fantastic materials will reach as many kids as possible.
Nakamura: Yes, while contents are important, what we believe is most important is how adults can extract interest from children toward learning. Currently in schools, teachers are too busy with chores and do not have enough time to communicate with children. eboard contents will enable teachers to listen to the children more carefully by saving time they would have normally spent preparing materials. Only adults can convey the importance of learning to children who are restless, so we hope that through eboard, teachers can focus on what is most important; showing students the importance of learning.


FIT: How have you spent the funds from FIT?
Nakamura: We have been able to visit more NPOs who are providing educational opportunities for children – who often want to make use of eboard but are unable to afford it. It is very motivating for us that FIT's funding will help us reach organisations in need. We are delighted that this new form of education is spreading to children in need. For example, by collaborating with NPOs that support families who are on social support services, we are have been able to expand the use of eboard. We are sure that eboard brings people from the NPO and the children close together in their learning. Going forward, we are going to hold seminars and training sessions to ensure our content and message is shared with as many people as possible.

FIT: Do you have any concerns that you are currently encountering?
Nakamura: Compared with 5 years ago when we established our organisation, ICT content are much better known to society and are being utilised more as a study tool. However, we have heard comments that people don't have sufficient terminals to accese eboard. After last year's FIT, one of the participating companies donated their used PC's. They also supported us in setting up the PCs. We are appreciative that FIT has brought such in-kind support. Similarly, we are happy if more companies provide unnecessary PCs or tablets to us, which will lead to opportunities for kids to learn through eboard. If you know someone like this around you, kindly let us know.

FIT: Finally, please give us a message for the readers of this article.
Nakamura: We think that the content we deliver through our ICT platform are no more than tools. In order to realise a society where no one is left behind in learning, the most important thing is to make more people conscious about children's learning. Generally speaking, people tend to think it is difficult to make a contribution to society or to support children, and that only professional can be involved. In those circumstances, we believe that using eboard can lower that hurdle, helping more people be involved with learning. Even in an environment where no tutor nor college students are involved, you can support children by using eboard. Similar to coaching baseball to neighbourhood children, learning can be also supported. We hope that a variety of new forms of learning will be created by one more person's involvement with learning and we believe eboard is the tool that can make that happen.

eboard https://www.eboard.jp/
「教材を見てみる」 https://www.eboard.jp/list/