Paralympians Association of Japan
Paralympians Association of Japan ("PAJ") is an association of former Paralympic athletes who have competed in Paralympic Games representing Japan. Activities of PAJ include self-development of the athletes, PR activities aimed at increasing awareness and understanding of Paralympics as well as research.

We spoke with Mr. Isao Horikiri, PAJ Secretary. Mr. Horikiri has been interviewing Paralympic athletes from the point of view of athletes, not persons with disabilities, since he was working as an editor for a ski magazine and a freelance photojournalist. Mr. Horikiri has also been involved with the activities of PAJ to gain support, understanding, and cooperation for Paralympic athletes as well as Paralympic sports in general.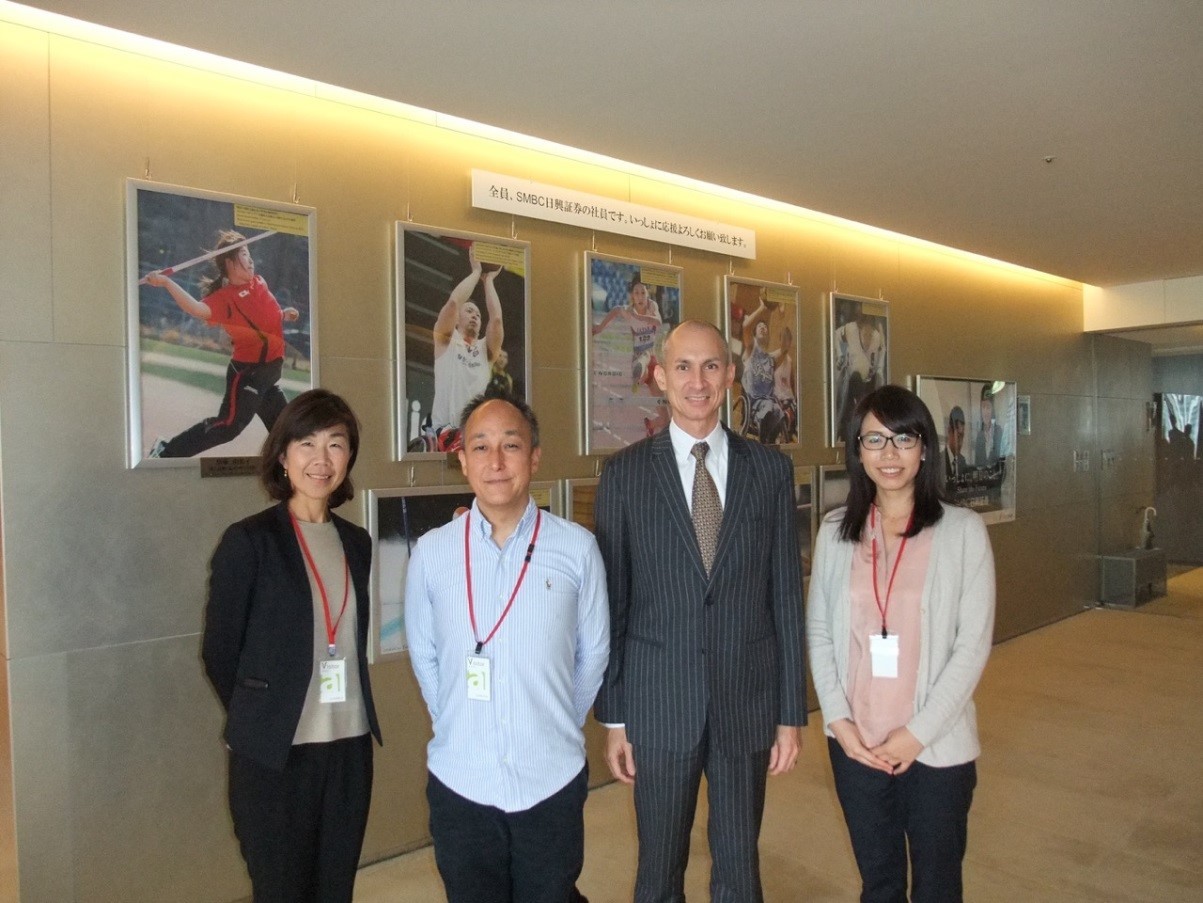 From left to right: Ms. Tomoko Tashiro (FIT 2017 Communication team), Mr. Isao Horiki (PAJ Secretary), Mr. David Schaefer (Fit 2017 Co-chair), Ms. Akiko Sagawa (FIT 2017 Communication team).
The panels in the background show SMBC Nikko Securities' athlete employees, four of which participated in the Rio Paralympics.

FIT: Please tell us about the activities of PAJ.
Horikiri: The term "Paralympian" represents athletes who have competed in the Paralympic Games and is a term that is also used by the International Paralympic Committee (IPC). PAJ was established in 2003, incorporated on February 12th, 2010 to become a general incorporated association. We are working towards the realization of a society in which everyone can enjoy sports, utilising the connections among Paralympians and cooperating with sports organisation and athletes in and outside of Japan.

The three main activities of PAJ includes the following. The first activity of PAJ is to increase awareness through lecturers who speak about Paralympics and sports for the disabled. There have always been requests for lecturers; but recently we have been receiving requests particularly from elementary and middle schools as well as companies.

The second activity of PAJ is to increase self-awareness of the Paralympian athletes themselves. We provide opportunities for the athletes to raise self-awareness and hope to grow the number of people who can contribute to the society as Paralympians. Specifically, we hold monthly study sessions and seminars called ParaShiru Café (NB: a coinage of learning (shiru) about Paralympics) for members of the association. It is a place for Paralympians to interact and exchange information.

The last activity of PAJ is researching and reporting. Through surveys, we research and report on the current Paralympic sports environment and its improvement.

FIT: Please tell us how you became involved in PAJ.
Horikiri: The trigger was my coverage as photojournalist at the Nagano Paralympic Games in 1998. I believe the Nagano Olympic was epoch-making. Back then, I was an editor for a ski magazine and I started covering Alpine skiing for persons with disabilities.

Public awareness of the Paralympic Games increased greatly when it was held in Nagano. However, the media coverage for Paralympic Games stopped immediately after the games. Many people became interested in Paralympic Games and the awareness of Paralympic athletes increased but there was no continuity. That was a real pity. I wanted to ensure that the media coverage wasn't just a one-off event and continued to follow the Paralympics by writing articles as a columnist.

Meanwhile, PAJ was established by volunteer athletes. The association started off having a really grass-roots feeling to it and even though PAJ incorporated later, it was really short of funds (laughs). Since it became increasingly challenging for the athletes to run the association by themselves, I was recruited to support the operation as my wife Kuniko Obinata (gold medalist at the Nagano Paralymics and PAJ Vice President) was one of the founding members of the association.

Back then, we had to do our best within our limited budget and resources. The amount of work started to increase at the time of the bid for the Tokyo Olympics and Paralympic Games, and from around 2012 I became fully engaged in the operation.

FIT: How has the environment for Paralympic athletes changed?
Horikiri: The environment has changed greatly when compared with the time the PAJ was setup. I believe the athletes also feel the change.

Back then, the position of athletes was weak; what I mean by that is weak in terms of the athletes' rights vis-à-vis the sports organisations. Compared to Olympic athletes, the competition environment was limiting and expenses had in general to be covered by the athletes themselves. This put major burdens on the athletes and limited the number of athletes who could afford and what they could afford to do.

In the sports world, a professional athlete can usually win prize money and charge admission fees. Although tennis or wheelchair marathon race have prize money, the financial standards for many sports for persons with disabilities have not caught up. Apart from the Paralympic Games, the direct financial return generated by sports for persons with disabilities is still small.

Then what is supporting the lives of Paralympic athletes in Japan? It is the sponsor companies that hire the athletes. This structure has been prevalent in Japan's sports world and it has spread to Paralympic athletes. Due to this, Paralympians have been able to continue their sports. Top athletes are able to cover costs for training and travel, gradually alleviating the financial problem.

Since Tokyo won the bid for the 2020 Olympics in September 2013, people's interest and the government's approach have changed drastically. Naturally, our own athletes need to show results in order for the Olympic excitement to really catch on. The Tokyo Metropolitan Government, the Organising Committee, and the national government are putting in considerable effort. The oversight of the Olympics and Paralympics has been unified under the Japan Sports Agency and funding increased for Paralympic teams.

FIT: How is the donation money from last year's FIT For Charity Run being used?
Horikiri: We plan on utilising the money over a three year period. During the current first year, we have been preparing to increase the number of Paralympian lecturers. As I mentioned earlier, requests for sending lecturers have been increasing and we believe it is important to train more lecturers in order for Paralympians to acquire the knowledge necessary to make an impact.

By utilising the FIT donation money to fund study groups and lecture activities to increase the number of future lecturers, we believe that we will be able to increase the opportunities to learn from a broad diversity of perspectives. We also have a bigger goal of reaching out and responding to requests from rural areas outside of the Tokyo metropolitan areas hosting the Olympic / Paralympic Games.

FIT: Please tell us about the challenges and the future prospects of PAJ.
Horikiri: The environment for top athletes has improved but this cannot be said for athletes aiming one day to compete in the Paralympics. For example, while there are subsidies for purchasing assistive equipment necessary for daily living, when it comes to competitive equipment used in para sports, athletes need to cover the costs by themselves. Especially in the case of child and student athletes who cannot benefit from corporate sponsorship, the athletes' parents need to pay for equipment such as wheelchairs or prosthesis. The financial burden is substantial.

In order to address this issue, PAJ this year launched the Next Para Athlete Scholarship (NPAS) to support the families facing such situations. The goal of this scholarship is to support the growth of future Paralympic athletes. We received many applications through sports organisations and the association's website, many more than we had expected, and after careful consideration, we selected four athletes from the pool of applicants.

We believe that continuing NPAS, fostering future Paralympic athletes, and passing the baton to the next generation is our future challenge as well as desire.

People with disabilities lack opportunities to participate in sports because of their disability. We should aim for an environment in which the sports population naturally increases, regardless of physical (dis)ability. For that reason, I believe the PAJ and Paralympians role is to give back to the society what we have gained through sports. I would like to continue to engage in various activities in order to realize a society where anyone can enjoy sports.

FIT: Please share your message to this year's FIT For Charity Run runners.
Horikiri: I feel a personal connection to FIT For Charity Run because it is an athletic event. I have watched the participants running first hand; everyone was really giving it a go. If it is a sport that you personally take part in, I'm sure you will be interested in watching it, irrespective of whether it is an event for abled or disabled. I also want to encourage the physically fit to participate in the Paralympics as volunteers.