Tokyo Community School
Tokyo Community School (TCS) is a full-day micro-school for children aged 3-12, located in Nakano-ku, Tokyo. The school offers "inquiry based on real-life experiences" in small groups and at different ages, as well as "personalised learning through the use of technology". In this interview, we spoke with Ms. Nagayasu, who has been involved with TCS since her student days, as an educational staff member, and is currently one of the core members at the NPO's office.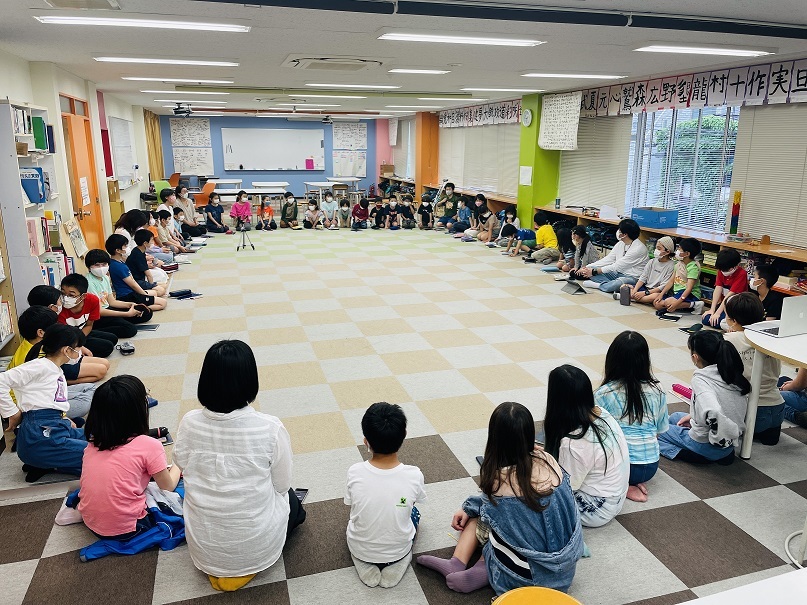 Please tell us how you became involved with Tokyo Community School.
I was originally looking for a job in the education field. When I was involved in a student club activity at university, I saw children's development close at hand and was impressed by how much they developed even with little support from me, and I wanted to make this my career. At the time, TCS was located in Suginami, and when I saw the words and thoughts of Kubo-san, the founder of TCS, on the website, I felt that was what I exactly wanted to do. I thought about becoming an elementary school teacher using the teaching license I obtained after graduating from university, but after participating in TCS's internship program, I found myself becoming a member of the education staff and now administrative staff. Time flew by just like that.

So your internship has led you to where you are today.
That's right. The school started out with 3 children, and now, it has 56 children. Though it is not a large school, I believe what we were doing here is very meaningful, and I wanted to learn from it and connect it to my own growth.

What kind of children are enrolled in the school?
There are some children who transfer from public elementary schools, but most of them start school in April of their first year. After comparing public schools and private schools, parents decide which option is best for their child. I think that TCS is recognised as one of the best options for learning.

How are the classes organized?
Our approach is based on the idea that children are capable beings by nature, rather than that they lack knowledge and need to be filled in by adults. For this reason, rather than teaching from the top down, we focus on thematic learning and project-based learning where students learn together in a group. Each staff member has their own personality, specialty, and teaching style, so we try to connect their individual strengths to the children's learning. Every day, children address questions that have no answers. When they go out into the world, it is less likely that they will have a clear answer, and the children at TCS face this situation from an early age. Seeing them graduate with such great and determined expressions on their faces is a moving experience for me every time.

How were FIT donations used?
Our goal is to create a connection between alternative learning organisations "Free Schools" for children who are not attending regular schools. No matter which educational institution you choose, the reasons may be different, but the goal is the same: to bring a smile to the child's face and to help him or her learn. 2 years ago, we created the "Tokyo Free School Network". If there is a place where we can create a network, disseminate information, and have dialogues with the government and other organisations, we believe that social recognition of Free Schools will improve. We are lobbying for public support, such as deregulation of attendance requirements and financial support. With the support from FIT, we would like to create a platform (website) and an opportunity (video production) for such Free Schools to collaborate and create their own movement and disseminate information.

How many Free Schools are there in the Tokyo Free School Network?
We have about 260 individual members and about 25 schools. We frequently exchange information with each other, such as how each school is responding to the COVID19.

Lastly, please give a message to those who are reading this article.
I am very grateful for this great support from FIT and the opportunity to take on this new challenge. Before COVID19, parents and the general public were invited to visit the school on visiting days, but when the situation got more serious, we had to switch to online visits.
Even post-COVID, we would like to further develop a system that can help children grow as much as possible while incorporating a balance of the best parts of both remote and face-to-face learning. We at TCS would very appreciate your continued warm support.